What are the advantages of tin cans for packaging? Guangzhou Yingli Packaging Co., Ltd. - tinplate, tinplate customization, tinplate manufacturer and tell you:
Tin on the inner wall of tinplate can reacts with the oxygen remaining in the container during filling, reducing the chance of food components being oxidized. The reduction effect of tin has a good preservation effect on the flavor and color of light fruit and fruit juice. Therefore, the fruit juice can packed with unpainted iron has better nutritional preservation than the fruit juice can packed with other packaging materials. The brown change is slight, the acceptability of flavor quality is good, and the storage life is prolonged.
Many people call tin cans. They all use tinplate as raw material. They are packaging boxes made of tin cans through different processes such as welding, stamping and bone buckle. Because it is made of tin cans as raw materials, it is also called tin cans.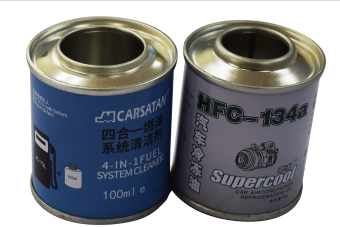 These advantages of tinplate box packaging enable more people to choose iron boxes. With the emergence of customization concept, more and more shapes can be realized. Putting exquisite food iron boxes or chemical parts iron boxes in supermarkets or stores is a small epitome of the iron box industry.
The packing and display packaging used for most tin products will make a PVC window to show the products in front of consumers more intuitively, and then place them according to different shapes. In fact, packaging products with tin cans will also have more unexpected effects. Customized iron boxes are very novel in style.
Guangzhou Yingli packaging products Co., Ltd. is located in Zengcheng, Guangzhou, with a modern workshop of 5000 square meters. The company's products are used in many fields, such as fine chemical product packaging, automobile chemical product packaging, cosmetics packaging, food and alcohol packaging, gift packaging, etc. the main products include round cans, water absorption cans, stamping cans, square cans, heterosexual cans, bone buckle cans, etc. The company has customers in more than 20 countries and regions such as North America, Europe, Asia and Australia. The company has carried out economic and trade exchanges with countries all over the world in full accordance with international trade practices. Now it has become a famous professional can manufacturer at home and abroad.